Who is religious freedom for?
Societies are made of majorities and minorities. Whether by choice or by birth, people belong to groups. We live our lives and express our purpose through religious, racial, political and cultural communities. All of them are different. All have their place. But not all have equal power. Some are bigger, older, richer and better connected than others. This imbalance pits belief systems against each other, but a peaceful society puts the strong and the weak on a level playing field.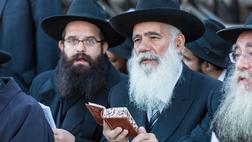 Sometimes this tension plays out in drastic ways.
Open Doors, an organization that tracks religious persecution, reports that "the suffering of Christians simply because of their faith is taking place on a staggering scale." In the 50 strictest countries, over 200 million Christians undergo high levels of persecution. "The sad toll of Christians being killed," says the report, continues "in more countries than ever before." Christians are being driven from their ancient communities in the Middle East, murdered in Nigeria and marginalized by a growing religious nationalism in Asia. All this exacerbates the world's refugee crisis. "Never before have so many Christians been on the move."[1]
And it's not only Christians. In countries across the Middle East, Muslims have been killed and persecuted by Islamic militants. Vulnerable minorities have been forced from their homes by despots and terrorists. Sectarian conflict has sparked a cycle of kidnappings, harassment and displacement.[2] According to Open Doors, "religious persecution is a significant driver of forced global migration."[3] Amid this chaos, Muslim refugees flee for their lives. In Myanmar the Buddhist majority is cracking down on the small Rohingya Muslim community.[4] Assaults against Muslims have increased in the United States,[5] and views toward Muslims have grown more negative across Europe.[6]
Perhaps more than any other people throughout history, the Jews have experienced enormous persecution as a minority scattered around the world. Anti-Semitism is still a problem today. One report documented 1,883 attacks against Jews, synagogues, and Jewish cemeteries in Canada, the United States and 44 countries in Europe and Central Asia in 2014.[7]
Minorities do not have it easy.
But freedom of religion or belief can help. The worth of a right is found in its ability to protect both majority and minority. This freedom operates on two fronts. As law it secures the free exercise of religion; as social norm it fosters respect for differences and disagreements. No country is perfect at this. But by bestowing dignity on our beliefs, religious freedom ties us all together, including those who profess no religion.
Consider an example from the West African country of Cameroon. Under threat of terrorist attacks, Christian and Muslim congregations took turns protecting each other. On Fridays Christians guarded the mosques during community prayer, and on Sundays Muslims guarded the churches during worship services.[8]
Such reciprocity is vital because the majority and the minority often trade places. What is popular at one time becomes unpopular at another. Every religion undergoes the fluctuations of prominence and obscurity. The cultural group that enjoys privilege today may lose it tomorrow. Power is not permanent. So, a religious freedom that protects the little guy is also the best security for the big guy. Safety is not in numbers; safety is in justice.
There are consequences for repressing the beliefs, practices and aspirations of minorities. Imbalance provokes instability, breeds resentments and sharpens divisions. Alienation creates strangers, and those strangers range the world in search of support. The code of hospitality found in the Bible holds us accountable to the least among us. And since we are all sojourners in a strange land, if we befriend a stranger we may discover "angels unawares."[9]
Religious freedom for some is really religious freedom for none.
---
[1] See Open Doors World Watch Report 2017, "The Persecution of Christians and Global Displacement," pp. 3-5.
[2] See Katayoun Kishi and Angelina E. Theodorou, "6 Facts about Religious Hostilities in the Middle East and North Africa," Pew Research Center, July 7, 2016.
[3] See Open Doors World Watch Report 2017, "The Persecution of Christians and Global Displacement," p. 3.
[4] Human Rights Watch, "Burma: New Wave of Destruction in Rohingya Villages," Nov. 21, 2016.
[5] Katayoun Kishi, "Anti-Muslim Assaults Reach 9/11-era Levels, FBI Data Show," Pew Research Center, Nov. 21, 2016.
[6] See Richard Wike, Bruce Stokes and Katie Simmons, "Europeans Fear Wave of Refugees Will Mean More Terrorism, Fewer Jobs," Pew Research Center, July 11, 2016.
[7] Organization for Security and Cooperation in Europe, Hate Crime Reporting, Anti-Semitism, 2015 report.
[8] Terry Turner, "Christians Protect Mosques on Fri., Muslims Guard Churches on Sunday," Good News Network, Jan. 29, 2016.