Beginning this weekend, thousands of Canadian Mormons will join millions of other Mormons around the world to watch or listen to the 185th Semiannual General Conference of The Church of Jesus Christ of Latter-day Saints. Sessions will be broadcast live via television, radio, satellite and Internet from the Conference Center in Salt Lake City, Utah, beginning on Saturday, September 26, 2015.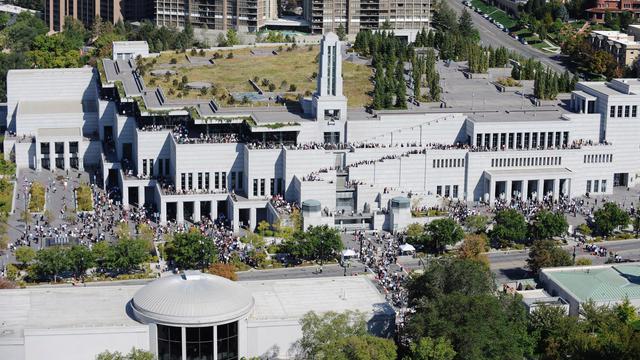 Members of the Church look forward to the opportunity to hear spiritual messages related to the gospel of Jesus Christ from inspired leaders. A focus of the April 2015 general conference was Sabbath day observance. Apostle Russell M. Nelson asked, "What did the Savior mean when He said that 'the sabbath was made for man, and not man for the sabbath'? (Mark 2:27). I believe He wanted us to understand that the Sabbath was His gift to us, granting real respite from the rigors of daily life and an opportunity for spiritual and physical renewal. God gave us this special day, not for amusement or daily labor but for a rest from duty, with physical and spiritual relief."
The sessions of general conference will occur at the following times (times given are for mountain daylight time):
Saturday, September 26, 6:00 p.m.: General women's session.
Saturday, October 3, 10:00 a.m.: Saturday morning session.
Saturday, October 3, 2:00 p.m.: Saturday afternoon session.
Saturday, October 3, 6:00 p.m.: Priesthood session.
Sunday, October 4, 10:00 a.m.: Sunday morning session.
Sunday, October 4, 2:00 p.m.: Sunday afternoon session.
The general women's session is for women, young women and girls ages eight and older, and the general priesthood session is for the men and young men of the Church ages 12 and older.
Information regarding audio and video streams via the Internet can be found at lds.org/general-conference. A detailed broadcast schedule of general conference can be found at bonneville.info. For additional information on availability in your area and for information on rebroadcasts, visit byutv.org.
Conference coverage, including photos, will be published throughout the weekend on Mormon Newsroom. Additional information will also be posted on the Mormon Newsroom blog. Journalists, bloggers and others can get this material by going to those sites; following the sites on Facebook, Twitter or Google+; or subscribing to the sites by email.