Many Canadian Mormons will send their best wishes this week to Thomas S. Monson, president of The Church of Jesus Christ of Latter-day Saints, as he celebrates his 88th birthday on August 21.
President Monson often reminisces about the years he spent in Canada and feels special ties with the members of the Church and friends he made while serving as president of the first Canadian mission of the Church, a geographical area that was later divided into three missions.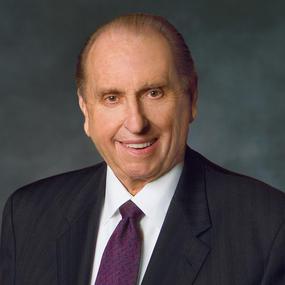 He arrived in Toronto, Ontario, in May 1959 to begin a three-year mission, where he was responsible for training and mentoring hundreds of full-time missionaries serving two-year proselyting missions for the Church. President Monson, 31 years old at the time, was accompanied by his wife, Frances (expecting Clark, their Canadian-born son) and two other young children, Tom and Ann.
It was under President Monson's leadership in April 1961 that French-speaking missionaries were first sent to the Montreal area. Two months later, another four such missionaries joined them. This effort resulted in Francophone converts and the later formation of a French-speaking district.
Of President Monson's missionary service in Toronto, his counsellor in the mission presidency, Everett Pallin, said, "[He] was exactly who the Toronto saints needed to help lead them to becoming a stake. President Monson's leadership and loyalty was a motivating factor in encouraging local members to build Zion here rather than move to distant locations. He stopped the flow of mature saints from leaving the area, saints who wanted the full program of the Church for their families. … President Monson unfolded the vision to us that we could live here in our 'Garden of Eden' Ontario with the full program of the Church. His care for us in achieving stake-hood was just one of his many contributions."
President Monson has a keen sense of the Church's history in eastern Canada. He often shared with Canadians the Church's early Ontario history, reminding them that they walked along the same streets travelled by early prophets of the Restoration such as Joseph Smith, Brigham Young and John Taylor. It was in Toronto that John Taylor, an immigrant to Canada from England, first learned about the Church and was baptized. 
Since his missionary service, President Monson has returned several times to Canada for other Church duties and often shares these experiences in his general conference talks. President Monson's last visit to Ontario was in June 2011 to dedicate a 400-acre Church campsite near Peterborough, Ontario, named in his honour — an indication of the high esteem in which he is held by Canadian members.
When a man devotes his entire life to the service of his God and fellowmen, it's natural and fitting that he is loved, honoured and revered. President Thomas Spencer Monson evokes all of these emotions in faithful Latter-day Saints across Canada.