In May 2020, when the COVID-19 pandemic was in full lockdown, Marcel Blais, a member of The Church of Jesus Christ of Latter-day Saints, took a well-deserved retirement. With so many restrictions in place, he did not envisage anything productive would come of his days stuck at home. He decided to focus his attention on his passion for genealogy and family history. His personal dedication led him to make several interesting discoveries.
Blais realized that online family history resources keep us connected, thanks to technology and social media. He also realized that he could converse and exchange with people from all over the world by registering for various family history webinars (both in French, his mother tongue, and in English). He drew many ideas from them. In June 2020, he attended a particularly well-organized French virtual genealogy fair where he discovered new ambitions concerning his own family line, among which were his Allaire cousins.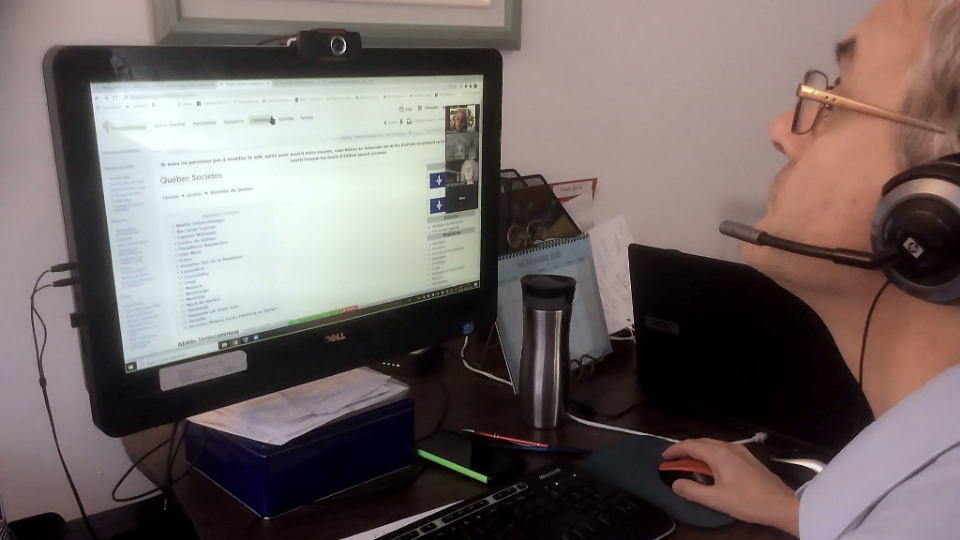 The Allaire Family group had been holding family history meetings in person every two years, but these gatherings ended with the pandemic. Blais then suggested that his cousin Francine Ruel organize a virtual family reunion in August of the same year. The event was so popular with the family members who joined that the experience was repeated in September and every month since.
"It was such a great time to be together as a family! What a contrast to these times of confinement; it's like liberation," said one of the cousins who attended the meeting.
From these experiences, Blais draws several lessons. The first is that while technology can connect everyone in the world, not everyone masters these technologies. In addition, his daughter-in-law pointed out that most resources are available mainly in English. He jokingly suggested that she create her own conferences and training in French for French-speaking Canadians. Less than two hours after that conversation, she invited him to join the group she had just created.
The idea gained ground, and it did not take much for Blais to invest himself in the creation of a network of conferences and training broadcast in French on Facebook (a social media platform that many know how to use) as well as on a YouTube channel that he created and regularly feeds with his online training courses. Thus, little by little, the French-speaking world has access to research tools in family history. Nearly 30 courses are already online; some explain how to add audio comments, photographs and archives to a family tree.
Having received the right to contribute to the development of FamilySearch/Wiki, thanks to the quality of his work, Blais also offers links in French to Quebec family history centres, county and municipal archives, more than 120 genealogical societies and groups and more than 100 religious and Indigenous communities in the province and elsewhere.
While the COVID-19 pandemic has confined most Canadians, Blais has opened a virtual door to the exchange and connection of families in the Canadian francophone world like never before.
Since January 2021, Blais has been a service missionary for FamilySearch, where his tasks include translating for FamilySearch/Wiki and the upcoming RootsTech conference.
Each year since 2011, FamilySearch hosts RootsTech, the world's largest family history conference. This year, RootsTech Connect is completely virtual and free.
FamilySearch is the world's largest genealogy organization and a service provided by The Church of Jesus Christ of Latter-day Saints. FamilySearch's commitment to helping people connect with their ancestors is rooted in the Latter-day Saint belief that families are meant to be central to our lives and that family relationships are intended to continue beyond this life.
FamilySearch's resources are available to everyone who wants to discover more about their family and their heritage, from church records in Europe to oral histories in Africa.
Discover your story at RootsTech Connect, February 25–27, 2021.
-------------------------------------------------------------------
Resources
FamilySearch/Wiki (in French):
https://www.familysearch.org/wiki/fr/Qu%C3%A9bec
Training on Using the FamilySearch Site (in French):
https://www.familysearch.org/wiki/fr/Formations_%C3%A0_l'utilisation_du_site_Familysearch
FamilySearch Support in Quebec (in French):
https://www.facebook.com/groups/658894468170840
Quebec Genealogical Societies (in French):
https://www.familysearch.org/wiki/fr/Qu%C3%A9bec_Soci%C3%A9t%C3%A9s#Soci.C3.A9t.C3.A9s_du_Qu.C3.A9bec
The Virtual Genealogical Society of Quebec (in English and French):
https://genquebec.com/en/webinars-0
https://genquebec.com/fr/webinaires
FamilySearch/Wiki: A Genealogy Resource Guide (in many languages):
https://www.familysearch.org/wiki/en/Main_Page
FamilySearch Family History Library webinars and classes: https://www.familysearch.org/wiki/en/Family_History_Library_Classes_and_Webinars
All non-FamilySearch webinars and online classes: https://www.familysearch.org/wiki/en/Webinars_and_Online_Classes_from_outside_FamilySearch
For an example of audio commentary on archival photographs offered by FamilySearch, please visit: