Elder Richard S. Hutchins was named an Area Seventy and a member of the Sixth Quorum of the Seventy of The Church of Jesus Christ of Latter-day Saints at the April 2019 general conference. He is responsible for the North America Central Area, Winnipeg Co-ordinating Council.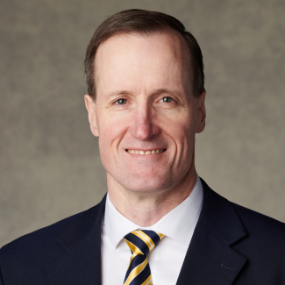 Elder Hutchins received a bachelor of arts degree in chemistry from Princeton University and a PhD in analytical chemistry from the University of Kentucky. Since 1995, he has worked for Pfizer Inc. in various capacities and is currently an executive director responsible for the development of oncology medicines within the pharmaceutical sciences discipline.
Elder Hutchins has served in a number of Church callings, including full-time missionary in the San Jose California Mission, ward Young Men president, ward executive secretary, elders quorum president, seminary teacher, bishop, counsellor in a stake presidency, and stake president.
Richard Scott Hutchins was born in Norwood, Massachusetts, on February 3, 1967. He married Kelly Diane Schrum in 1990. They are the parents of 10 children. Elder and Sister Hutchins reside in Erie, Colorado.