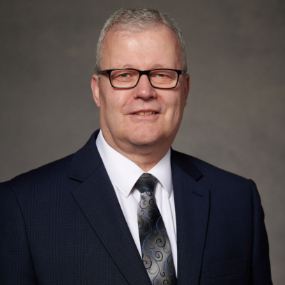 Elder Robert W. Mendenhall was named an Area Seventy and a member of the Tenth Quorum of the Seventy of The Church of Jesus Christ of Latter-day Saints at the April 2023 general conference. He is responsible for the North America Central Area, Edmonton and Winnipeg Co-ordinating Councils.
Elder Mendenhall received a bachelor of arts degree in political science and history from the University of Lethbridge in 1982, a juris doctorate from the University of Saskatchewan in 1985 and a master of laws degree from Brigham Young University in 1995. He has worked as a lawyer for private law firms, several national banks and other financial institutions in Canada.
Elder Mendenhall served a full-time mission in the Ohio Columbus Mission. He has also served in a number of Church callings, including branch president, high councillor, bishop, stake president and president of the Edmonton Alberta Temple.
Robert Wayne Mendenhall was born in Cardston, Alberta, Canada, on May 28, 1959. He married Dixie Marie Cahoon in 1981. They are the parents of five children. Elder and Sister Mendenhall reside in Sherwood Park, Alberta, Canada.