Everyone should have the privilege of worshipping God according to the dictates of their own conscience — however, wherever or whatever they choose. This is a strong belief and one of the tenets of The Church of Jesus Christ of Latter-day Saints (see the Church's eleventh article of faith).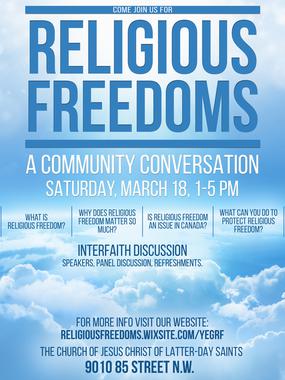 Professional broadcaster and director of public affairs for the Church in Edmonton, Alberta, Eileen Bell is one of the organizers of the Interfaith Religious Freedom Community Conversation on March 18, 2017, to which all are invited at 9010 85 Street N.W., one of the Church's buildings in Edmonton.
"Muslims, Jews, Christians and [people of] other faiths will be talking about supporting all of God's children and our rights to worship and express our beliefs, which rights we are granted by law," says Bell.
"Faith groups in today's world face opposition on a lot of fronts — some issues are more serious than others. By serving together for purposes of common good, we get to know each other better," continues Bell. "We all benefit from the richness of the different faiths we celebrate. We find out that the differences can strengthen us, not divide us."
The freedom to assemble and worship as we choose is a constitutionally protected right granted under section 2 of the Canadian Charter of Rights and Freedoms.