To celebrate its cultural heritage, Alberta has designated the first Monday in August as Heritage Day. Canadian Mormons have a special place in their hearts for the province that welcomed many of their pioneer forefathers in the late 1800s.
By 1910, close to 10,000 members of The Church of Jesus Christ of Latter-day Saints lived in southern Alberta. Currently in excess of 80,000, this number is greater than in other parts of Canada due in part to the Mormon pioneers' founding settlements in the late 19th and early 20th centuries.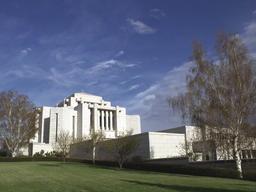 The first Church temple outside the United States was dedicated in 1923 in Cardston. Alberta is home to three of the eight operating Mormon temples countrywide.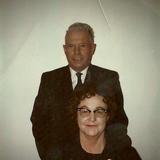 Genealogical records have given Darren and Vicki Barfuss of Calgary's Royal Oak Ward (a ward is a congregation) insight into the lives of some of their Mormon ancestors.
"We are all required to make journeys of faith. That is the gospel plan. Our path may not be crossing an ocean or walking alone. … But whatever it is, it will demand faith in every footstep. Years from now your grandchildren will tell with amazement stories of your choices which changed their lives. You will be called their pioneers" (Bonnie D. Parkin, "Finding Faith in Every Footstep," Apr. 1997 general conference).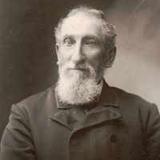 Vicki's second-great-grandfather, Willard Gilbert Smith (1827–1903), was four when his family joined the Church. By the age of 12, he had endured persecution by anti-Mormon mobs, and was one of only a few to escape the massacre at Haun's Mill, which claimed the lives of his father and a brother.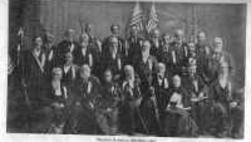 In Nauvoo, Willard was well acquainted with the Prophet Joseph Smith and his family. At 17, devastated by the martyrdom of Joseph and Hyrum, but with an unwavering testimony of the truthfulness of the gospel, he went west with the Saints and was first to volunteer for the Mormon Battalion.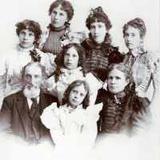 Willard Smith later served a mission to England, married, had 12 children and served as a bishop (leader of a local congregation) and stake president (leader of a geographic subdivision similar to a Catholic diocese).
A scripture from the Book of Mormon sums up the effect on Vicki's life of this remarkable ancestor: "Wherefore, ye must press forward with a steadfastness in Christ … and endure to the end" (2 Nephi 31:20).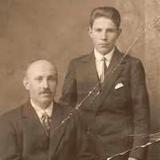 Darren's grandfather Gottfried Barfuss (1909–1983) (to the right of his older brother, Ernst) was born in Switzerland, the youngest of 14 children, and left fatherless at age nine. Eight years later, his mother was baptized. On her deathbed one month later, she made Gottfried promise he would join the Church, which he did, in 1927.
He prayed earnestly to join the Saints across the ocean. His dream came true when an insurance cheque covering everything he'd lost in a house fire was enough to buy his ticket to Canada and pay the bills. Gottfried settled in Hill Spring, Alberta, where he spent the rest of his life. He left a legacy of faithful service in the temple.
"The descendants of these pioneers can partially settle the account by being true to the cause for which their ancestors suffered so much to be part of" (James E. Faust, "Gratitude as a Saving Principle," Apr. 1990 general conference).