Stir Every Heart on Canada's Sesquicentennial with this beautiful half-hour tribute to the Canadian flag and Canadian spirit.
In "Symbol of a Nation," the 360-voice Mormon Tabernacle Choir presents a special Music & the Spoken Word broadcast, in honour of Canada's sesquicentennial. It captures in word and song "the pride that all Canadians feel for every part of this good land."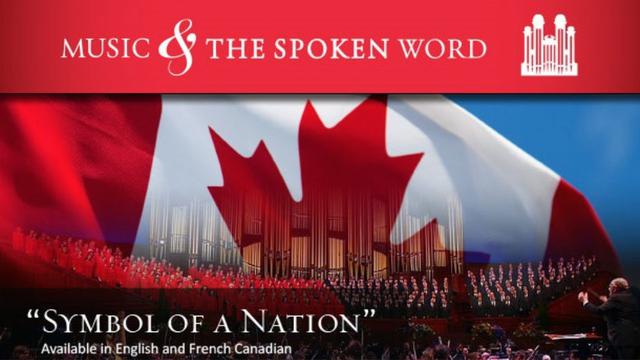 Musical selections include "O Canada," "This Land is Your Land," "Farewell to Nova Scotia," "Homeward Bound" and more.
Plus, a stirring message that re-visits the day in 1965 when the globally iconic maple leaf flag was officially adopted.
To view the video click here.
Stations carrying the Music & the Spoken Word Sesquicentennial Canada Day Special Broadcast

Station

Type

City

Province (State)

Country

Westman Communications Group

Cable

Brandon

Manitoba

CANADA

Several times, Consult local listings

Cardston Community TV

Cable

Cardston

Alberta

CANADA

Sunday July 2nd - 8:30 am-9:00 am and 5:00-5:30 PM

CFEP-FM

Radio

Eastern Passage

Nova Scotia

CANADA

Sunday July 2nd - 6:30 am-7:00 am

CFAR-AM

Radio

Flin Flon

Manitoba

CANADA

Sunday July 2nd - 7:30 am - 8:00 am

CFIS-FM

Radio

Prince George

British Columbia

CANADA

Sunday July 2nd - 6 am-6:30 am

CJTR-FM

Radio

Regina

Saskatchewan

CANADA

Sunday July 2nd - 6 am-6:30 am