The FamilySearch website of The Church of Jesus Christ of Latter-day Saints now holds vital statistical information gathered by the Archives of Ontario from birth, marriage and death records dating back to 1869. This information complements the extensive genealogical records by FamilySearch International, formerly known as the Genealogical Society of Utah.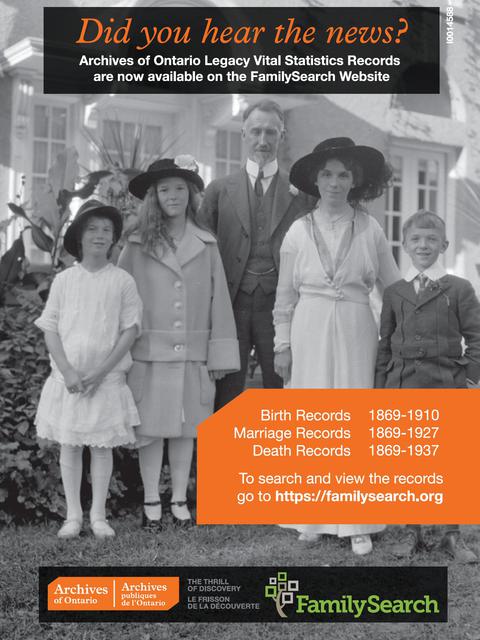 Hugo E. Martinez of the Seventy said, "Our service and personal ministry are not limited to the living on this earth. … We can also keep a journal and write our family histories to turn the hearts of the living toward the living — as well as the hearts of the living toward their ancestors. It is all about linking our family, generation by generation, in eternal bonds."
Thanks to a community effort from thousands of devoted volunteers, some of the Ontario vital records are now freely accessible to the general public. A nominal index has been created and linked to the online images of the records, which were previously imaged by FamilySearch International. The Ontario Archives, custodian of these historical records, also offered its collaboration to help make these records available to researchers.
Local area Church leader Elder Alain L. Allard said, "In our economically challenging days, it is refreshing to see a community uniting to make available part of the rich history of Ontario. FamilySearch International, through the sponsoring of The Church of Jesus Christ of Latter-day Saints, is grateful to the small army of volunteers and the Ontario Archives for their crucial help. People from many parts of the world will rejoice to be able to find their Ontario heritage. This has already been my joyful experience!"
With access to databases containing well over three billion names, more than 4,600 Church-owned family history centres are located in over 132 countries, including Canada. Admission is always free and each centre, with its own hours of operation, is staffed by volunteers, many of whom are Mormon members.
For more information and to locate the family history centre nearest you, visit www.familysearch.org or call 1-800-346-6044. To begin researching your family history, see the "Search" tab on FamilySearch's website.