June 21 is National Indigenous Peoples Day, an official day of celebration to recognize and honour the heritage, history, rich cultures and achievements of the First Nations, Métis and Inuit Peoples in Canada. Indigenous Peoples have traditionally gathered on this longest day of the year (summer solstice) to pray, celebrate and give thanks for the season.
Whether new converts or lifelong members of The Church of Jesus Christ of Latter-day Saints, Indigenous Latter-day Saints have played vital roles in their families, communities, Nations, Canadian society and the Church. We highlight here the experiences and perspectives of four Latter-day Saints, their Indigenous communities, the ways they celebrate National Indigenous Peoples Day and the relationship of their Church membership with their Indigenous heritage.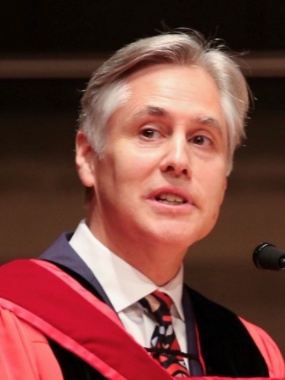 John Borrows
John Borrows is a member of the Chippewas of the Nawash First Nation on Georgian Bay in Ontario. As a Canada Research Chair of Indigenous Law at the University of Victoria, Borrows' ground-breaking research on Indigenous legal traditions is widely celebrated around the world. On December 30, 2020, he was inducted into the Order of Canada, one of the nation's highest honours.
"I love our reserve and the people there," Borrows said of his home community. "The Niagara escarpment runs through our lands, and these ancient cliffs rise above cedar, pine and birch-covered forests. It is a place where my mother's family has lived for centuries."
Speaking of National Indigenous Peoples Day, Borrows said, "I am glad we celebrate this day when the sun is at its strongest. When my great-grandfather Peter Kegedonce Jones agreed to share our territory through a treaty, it was to be for 'as long as the sun shines.' He welcomed people from other parts of the world to share the warmth, light and abundance we enjoy in our part of Ontario. For me, National Indigenous Peoples Day reminds me of the need to continually rekindle our respect for the land on which we live and our love for one another."
"On National Indigenous Peoples Day, I celebrate our family's resilience and our love for learning. Education is important to our people. My grandfather taught us to get all the education that you can — no one can steal it from you. When President [Gordon B.] Hinckley counselled people to 'get all of the education that [they] possibly can' ("Stay on the High Road," April 2004 general conference), I heard my grandfather's wisdom in his encouragement," Borrows said.
"I am grateful to be Anishinaabe and Christian," Borrows shared. "I have been a member of The Church of Jesus Christ of Latter-day Saints for 40 years. I also feel a deep love and connection to my Anishinaabe community's values of respect for the earth and for our ancestors and elders. As Anishinaabe, we have seven Grandfather and Grandmother Teachings we try to live: love, truth, wisdom, humility, respect, bravery and honesty. These principles are written into our constitutions."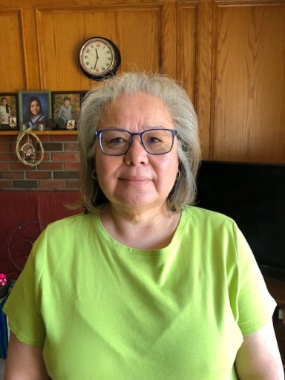 Anne Wildcat
Anne Wildcat is a citizen of the Ermineskin Cree Nation, one of the Four Nations of Maskwacis, Alberta.
"We are descendants of the Mountain Cree prior to Confederation. Our actual traditional territory goes into the northern United States and from the Rockies into Saskatchewan. My ancestors were semi-nomadic, and we were also a matriarchal society until the Indian Act diminished the role of the woman."
The community was greatly harmed, Wildcat shared, as a result of the Indian Residential School system. "However, spirituality is still an integral part of the community," she said. "We use sweetgrass and sage as part of our ceremonial smudge."
Each year on National Indigenous Peoples Day, Wildcat looks forward to "events just across the road at Maskwa (Bear) Park, … such as a powwow, talent show and traditional foods topped off with an amazing display of fireworks, which we get to watch without leaving our yard." Although community events are postponed this year due to the COVID-19 pandemic, she said, "We will still find a safe way to enjoy the day."
A convert to The Church of Jesus Christ of Latter-day Saints, Wildcat said, "I was fortunate to be raised with a beautiful balance of both worlds. My dad managed to avert being sent to Indian Residential School, and my mom was spared witnessing or experiencing any abuse. I don't recall a time I did not believe in the Saviour [Jesus Christ] or the power of a sweetgrass smudge."
Wildcat added, "My maternal Kokum (grandmother) had me dancing in powwow since I was seven, and I have been participating in the powwow circles off and on ever since. I was fortunate enough to be raised with the [Cree] language, so I never felt excluded from ceremonies. As a child, I had a keen interest in family history, so residing in a community full of kin has served me well with family history work. Furthering the work of the Lord in this capacity has strengthened the value of family, my history and my Cree culture."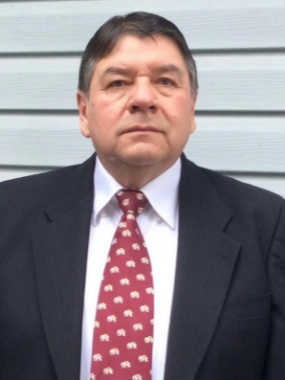 Richard Fox
Richard Fox is from the Blood Reserve near Cardston and Lethbridge in southern Alberta.
"I have lived here all my life except for a two-year [Church] mission and post-secondary education at Brigham Young University for a bachelor's of education and a master's degree," Fox said. "The Blood Reserve, sometimes referred to as Kainai, is the largest land-based reserve in Canada, with over 12,000 members. Our tribe, or nation, is part of the Blackfoot Confederacy, consisting of four nations: the Piikani, Siksika, Kainai and the Southern Piikani or Blackfeet Nation." Fox added, "The Kainai Nation as well as the Blackfoot Confederacy have been able to retain language, culture and traditional beliefs."
"The members of the nation today are continually striving for greater education, having all aspects of professional employment and careers, but we do have tribulations and hardships, which have taken a heartbreaking toll on many of our members. I'm always impressed how the nation is continually striving at great lengths to help and heal its tribal members," Fox shared.
Regarding National Indigenous Peoples Day, Fox said, "I'm grateful for the nations' deep-rooted past in keeping many of the positive values within their traditions." He will celebrate the day, he said, "by discussing and sharing experiences with both Indigenous Peoples and Canadians, within my sphere of influence, … of our history of survival and resilience." The day is "an opportunity for me to reaffirm as a First Nation member my unique circumstance, complete with culture, language and tradition."
Fox also shared that National Indigenous Peoples Day can help to acquaint non-Indigenous Canadians "in recognizing Indigenous Peoples for their individual talent and ancestral contributions as Canadians. [The day] is another befitting occasion for all Canadians to put aside prejudices and respect differences and reinforce tolerance."
Speaking of his membership in the Church, Fox said, "The setting/location of the Blood Reserve is the most beautiful location in all the world. The Rocky Mountains, rolling hills and farmland create an environment perfect for families, living the gospel, ministering and enduring to the end. The knowledge that comes from The Church of Jesus Christ of Latter-day Saints puts all things (truths) into perspective." He added, "My hope is that we can respect each other with all our differences and thoughtfully coincide."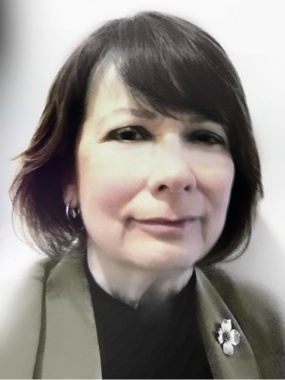 Karen Pruden Shirley
Karen Pruden Shirley, a Métis woman, is a retired lawyer with almost 30 years of legal practice in various areas, including Indigenous law and Crown law. She is a wife, mother of three and grandmother of nine. In 2012, she was a recipient of the prestigious Queen Elizabeth II Diamond Jubilee Medal.
"My home community is Red River Settlement (Assiniboia), located along the valleys of the Red and Assiniboine rivers in Manitoba," Shirley shared. "The settlement is all the area within about a 50-mile radius of the site of present-day Winnipeg, Manitoba. My Métis ancestors were born of English, French and Scottish fur-traders who intermarried 'by the custom of the country' with Indigenous wives and lived in the Red River Settlement.
"Over the generations, history happened, and a new Métis nation formed, made up of a multiracial people who were semi-nomadic, like the First Nations, and who had ancestral roots in common with the First Nations. But the Métis were distinctive from First Nations in their lifestyle, language and culture."
As she was growing up, Shirley and her family would attend Indigenous events in her area. "Two of my favourite summer events were family picnics at traditional Métis family spots along the River Road near the rapids at Lockport and visiting the Hudson's Bay Company fort at Lower Fort Garry. Today, as we live in Langley, British Columbia, one of my favourite things to do is to spend the day in the fort at Fort Langley, watching and participating in the demonstrations, storytelling, Métis jigging and hands-on activities like drumming, singing, finger-weaving and bannock-making."
Shirley's grandparents, Annie and Harry Pruden, joined the Church in 1914 in Winnipeg, Manitoba. "My grandparents were the first Manitoba couple with Indigenous heritage to accept Church membership and to be baptized. Heavenly Father permitted me to come to this earth into this family and household of faith, where I was taught the truths of the gospel and the history of the Restoration from my earliest days. I attended Primary with my mother from the age of three. My grandmother was my Primary president.
"Family history and temple work were important parts of my young memories, as I visited cemeteries and gravesites with my grandfather and uncle to help record the memorial inscriptions. Members of both my close and extended family made journeys by train as often as they could to the Cardston Alberta Temple to perform temple ordinances. When my grandmother passed away at the age of 61 in Cardston while working in the temple, my mother faithfully followed through on helping to keep my two younger brothers and me faithfully attending our Church meetings."
Shirley shared, "Through personal revelation, by studying my patriarchal blessing and through life experiences, I came to understand why the Lord wanted me to gain education, wisdom and knowledge. I would need them for the responsibilities and blessings He was preparing for me. Knowing the Lord expects me to fulfill the responsibilities He opens up for me has strengthened my persistence from a young age to search out my family's history and my Métis culture."
National Indigenous Peoples Day is important for all Canadians in supporting reconciliation. Ellen and Strater Crowfoot, Latter-day Saints from the Siksika Nation in Alberta, remind us that "there remain chronically unfulfilled promises, outstanding debts and deep wounds of mistrust" that must be addressed through reconciliation.
This year in particular, the day is an opportunity for Indigenous and non-Indigenous Canadians to grieve together the recent identification of unmarked graves of First Nations children in British Columbia.
Canadian Area Seventies of the Church issued the following statement earlier this month:
Members of The Church of Jesus Christ of Latter-day Saints across Canada mourn with other Canadians as we have learned of the recent discovery of 215 Indigenous children's remains upon the grounds of a former residential school in Kamloops, British Columbia. We express our love and sympathy to the individuals, families and communities so deeply affected, especially the Tk'emlúps te Secwépemc First Nation. We unite with our Indigenous brothers and sisters across Canada in prayer in the face of this tragedy. [. . .] We honour, remember and grieve the loss of each of these precious children and those left with trauma of this painful tragedy.
The Crowfoots encourage us, "with recognition of the summer solstice promising the earth's plenty, it signals [the time for] a change in Canada's relationships with First Nations … [toward] reconciliation and reparation."
How can Latter-day Saints and other Canadians be a part of this change? Here are seven ideas:
Learn about First Nations, Métis and Inuit Peoples in your area, including their histories, achievements and contributions.
Learn about the traditional territories in your area (a helpful resource is https://native-land.ca). Learn the names of the people who have historically cared for these lands. Acknowledge the ways in which you share and love the land where you live.
Watch films, read literature and engage with art by Indigenous artists and authors. Follow Indigenous organizations and news on social media.
Watch for Indigenous community events that are open to the public in your area. Attend and learn.
Volunteer to provide service or help to raise funds for an Indigenous organization or charity.
Learn how to introduce yourself in the Indigenous language of the territory in which you live (a helpful resource is https://www.firstvoices.com).
Follow the counsel of President Russell M. Nelson: "I call upon our members everywhere to lead out in abandoning attitudes and actions of prejudice. I plead with you to promote respect for all of God's children" ("Let God Prevail," October 2020 general conference).
Contributed by Dennis C. Wendt, Communication director, Montreal Quebec Mount Royal Stake